Malpractice Litigation 101
Malpractice Litigation 101
The Legal System


The legal process for medical malpractice litigation can be confusing and overwhelming. Learn about jurisdiction -- where a suit can be filed and what must be proven against you. 
What Must Be Proven Against You? 
To win at trial, the plaintiff must persuade the jury (or in some cases, the judge) of: 
Negligence 
That negligence was the cause of injury; and 
Damages 
Negligence 
In most cases, the plaintiff must prove that you, the defendant, "failed to exercise the degree of care, skill, and learning that would be expected under similar circumstances of a reasonably prudent health care provider." 
Ordinarily, the sole basis for the jury's decision must be evidence presented at trial, often through testimony given by health care providers called as a medical expert witnesses. In theory, this allows the jury to judge you according to the standards of your own profession. In practice, it requires them to choose between the standard espoused by you and your expert and those by the plaintiff's expert. 
Negligence was the Cause of Injury 
The plaintiff must demonstrate that your negligence was a cause of the injury. The plaintiff need only persuade the jury that your actions or failures were one cause of the injury, not necessarily the sole cause or even the most immediate cause. 
Damages 
A plaintiff may ask for economic and non-economic damages. Economic damages include things like lost wages and medical and funeral expenses. Non-economic damages include compensation for pain and suffering and loss of consortium. 
Occasionally, plaintiffs may ask for punitive damages or exemplary damages, designed to punish defendants or to deter egregious behavior. Such allegations against medical malpractice defendants seldom survive to the trial phase. Jury verdicts for punitive or exemplary damages against medical malpractice defendants are quite rare. 
Jurisdiction
A medical malpractice lawsuit is a civil proceeding. It is heard and resolved in a civil court. 
One of two court systems may have jurisdiction over your case: state court or federal court. Here is how jurisdiction may be determined: 
State Courts 
A medical malpractice suit against you is most likely to be filed in the state court of the county where you practice or live. If any part of the treatment or transaction took place in a different county, the suit might be filed there. 
Other venues are possible in cases with more than one defendant. If the co-defendants are solo practitioners, a suit may be filed in the home county of any one of the practitioners. If they are partners, the jurisdiction can belong to any county containing a partnership office or a hospital at which one or more of the partners practice. 
Given a choice, the plaintiff's attorney will usually file suit where it is most convenient, or where the attorney thinks there is the best chance to win or to obtain the highest damage award. 
You must be represented by an attorney licensed to practice in the state where the suit is filed. 
Federal Courts 
A malpractice case can also be heard in a federal court if: 
The plaintiff is a citizen of one state and no defendant is a citizen of the same state; or,

 

If a defendant is not a U.S. citizen and none of the co-defendants are citizens of the state in which the defendant practices.

 
Even when heard in a federal court, most malpractice cases are tried according to state substantive law. 
The Litigation Process
Ready to learn more? Learn about what happens once a suit is filed against you. We'll walk you through the major phases of the malpractice litigation process. 
Once a suit is filed against you, it begins passing through five major phases. How many phases are completed will depend on the demands and relative strengths of the plaintiff's case and of yours. 
The five major phases of the malpractice litigation process are: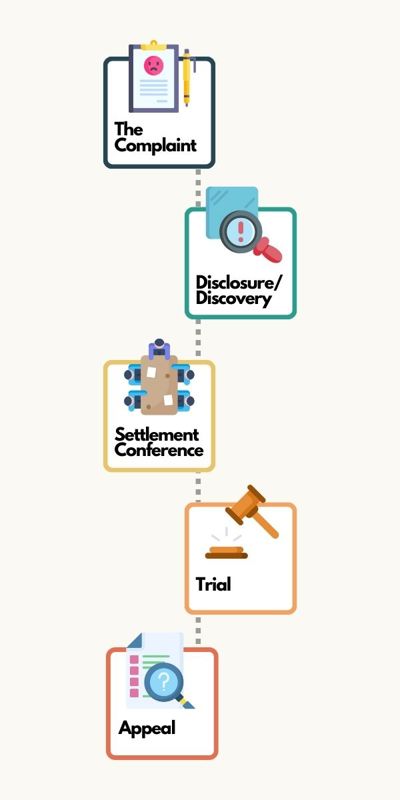 The Complaint
In this first phase, the plaintiff states the allegations of medical malpractice. These allegations may be very general or they may be specific. You will respond to these allegations through your attorney and a document called an "answer."


Disclosure/Discovery
To properly represent their clients in court, both plaintiff and defense attorneys must have access to information that might be pertinent to a case, except information protected by privilege. This includes information available to the opposing side. During the second phase of the litigation process, an attorney is permitted to "discover" such information, much of it by gathering medical records and by questioning the other side's potential witnesses through the deposition procedure.


Settlement Conference
In medical malpractice cases, a settlement conference is mandatory and unless your attorney tells you your presence is optional, you must attend the settlement conference. It is usually held after discovery is complete, and the parties know the relative strengths and weaknesses of their case. The settlement conference is held with a judge or, as is more common, with a private mediator retained by the parties. Generally a half to full day in length, the settlement conference includes the parties involved and their attorneys; your Claim representative usually is present, too. Your attorney will discuss the strengths of your defense. You are not expected to defend yourself.

It's important to note that providing your consent to settle does not mean the case will settle. However, relatively few malpractice suits actually reach the courtroom and fewer still are ultimately decided by juries.


Trial
Your trial will be the culmination of intensive planning and preparation. The importance of your contribution cannot be overstated. The case will be heard either by a judge or a jury and a verdict rendered.


Appeal
A verdict can be appealed. An appeal is not a retrial, but an examination of the record to verify that the original trial was conducted without legally significant error. Relatively few appeals result in overturned verdicts.
Avoiding "Next Time"
Whatever results from your malpractice litigation, one thing is certain: it's an experience you will not be anxious to repeat.

How do you avoid it?
Loss prevention is a major focus at MICA. We conduct regular seminars, perform office audits and prepare frequent publications and other materials that suggest procedures you can follow to help avert and defend claims of medical negligence.