What You Need to Know About Medical Malpractice Tail Coverage
Every health care professional in private practice will likely need tail coverage at some point in their career. Changing employment, moving to another state, and retiring are just a few of the instances that you may need to buy tail coverage.
A tail endorsement only applies to claims-made policies and comes with its own cost and timeline. In some cases, you may even qualify for a tail policy at no additional premium. 
Read on to find out how. 
What is tail coverage?
Tail coverage is an endorsement that extends your ability to report claims after a claims-made policy is canceled. This endorsement only applies to claims-made medical malpractice policies.
A few important things to know:
Claims-made policies cover events that are reported while the policy is active and occur on or after the retroactive date on your policy.  


A retroactive date is the date an active policy will start to cover reported claims. The retroactive date is usually the same as the effective date but if you have had claims-made coverage in the past, it may go back to the start date of your original claims made policy.


If you choose not to renew or cancel your policy, you may no longer have coverage for claims reported after that date. This is where obtaining tail coverage becomes important.
Is there an alternative to Tail Coverage?
There are two alternatives to tail coverage:
Prior Acts Coverage: Also called nose coverage, prior acts coverage is used when you are canceling your current claims-made policy and applying for a policy with a different carrier. If approved, your new carrier will issue your new policy with the retroactive date of your expiring policy. Securing prior acts coverage from your new carrier will eliminate the need to purchase tail coverage on your expiring policy.
Going Bare: This cannot be appropriately considered an option, as failure to purchase tail coverage from your current carrier or prior acts from your new carrier would leave you uninsured for future claims. This situation puts your personal assets and your reputation at risk. It would also put your future insurability at risk with many carriers. This is because a "gap" in coverage may be considered an unacceptable underwriting risk for many insurance companies. 
8 reasons you would cancel your claims-made policy and purchase tail coverage
There are a few common reasons that a physician may need to cancel their claims-made policy and obtain tail coverage: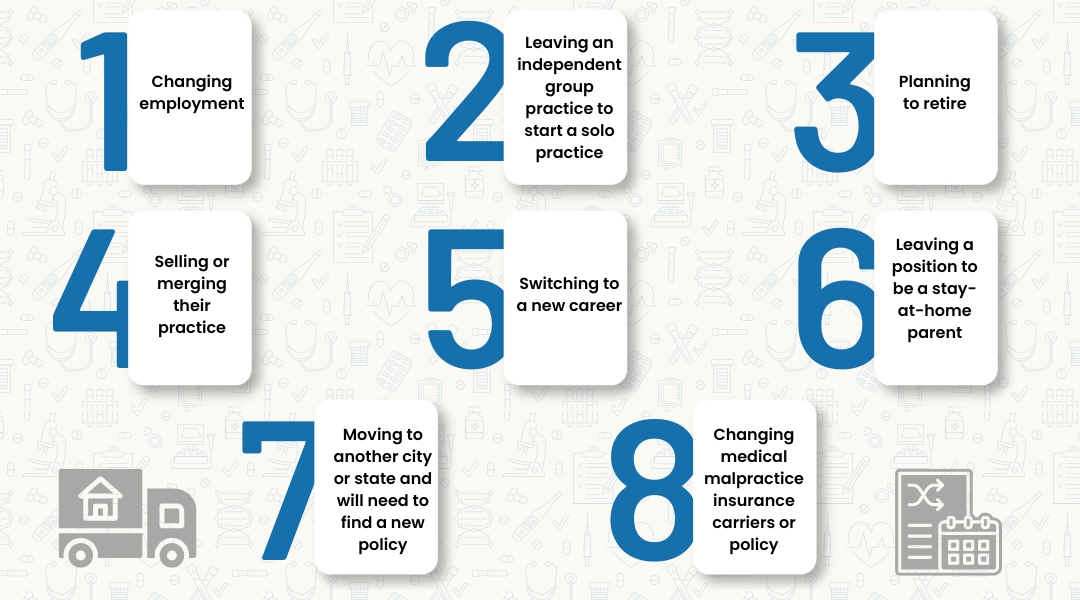 For larger organizations and practices that purchase coverage for their physicians, you should reference your benefit package to understand how tail coverage will be handled if your policy is cancelled.
How much does medical malpractice tail coverage cost?
The cost for medical malpractice tail coverage varies widely by the carrier and by state. The cost of a tail endorsement is typically a percentage of the annual premium. 
Many carriers offer "Retirement Tail coverage" at no additional premium, which is often referred to as "free" tail coverage.
At MICA, we offer tail coverage at no additional premium for those who have been a policyholder for at least a year, are at least age 55, and completely retire from the practice of medicine.  We also provide a tail at no additional cost in case of death or disability.
If you aren't eligible for a "free" retirement tail and you must cancel your claims-made policy, you can always request a tail endorsement from your carrier. Your carrier typically requires these requests to be submitted within a specified length of time following cancellation.
Is tail coverage worth the cost? 
You may believe that after all your years of practice, you have no unhappy patients or unexpected outcomes and that the likelihood of a medical malpractice claim being filed against you in the future is minimal.  
However, without tail coverage, you risk using your personal assets to pay the cost for defending a claim and potential settlements. When the total costs of such lawsuits may exceed hundreds of thousands of dollars, many would agree that the cost of tail coverage is well worth it.  
How can I get tail coverage?
You can purchase a tail endorsement from your existing carrier. Once your carrier learns that you intend to cancel your policy, you may request a tail quote. Typically, you would need to request tail coverage from your carrier within a set time period.
Want to learn more about tail endorsements or considering a claims-made policy?

Investing in a malpractice policy with the long-term intention of retiring from medicine may provide "free" tail coverage. And even if you cancel without being eligible for the free tail coverage, you can still add a tail endorsement. 
If you're with another insurance carrier and considering switching your current claims-made coverage and want to learn more about prior acts coverage and how much it costs – we are here to help.
But it's not just about cost. You also want a carrier with a solid track record.
At MICA, we have an experienced claim team to support and defend our members every step of the way when the unexpected occurs. We have received 93% of verdicts in favor of the defense in the last 5 years. In addition, many mutual insurance companies, like MICA, which are owned by the policyholders, often provide localized support and competitive rates.
Request a free personalized quote to see if we're the right fit for your practice.