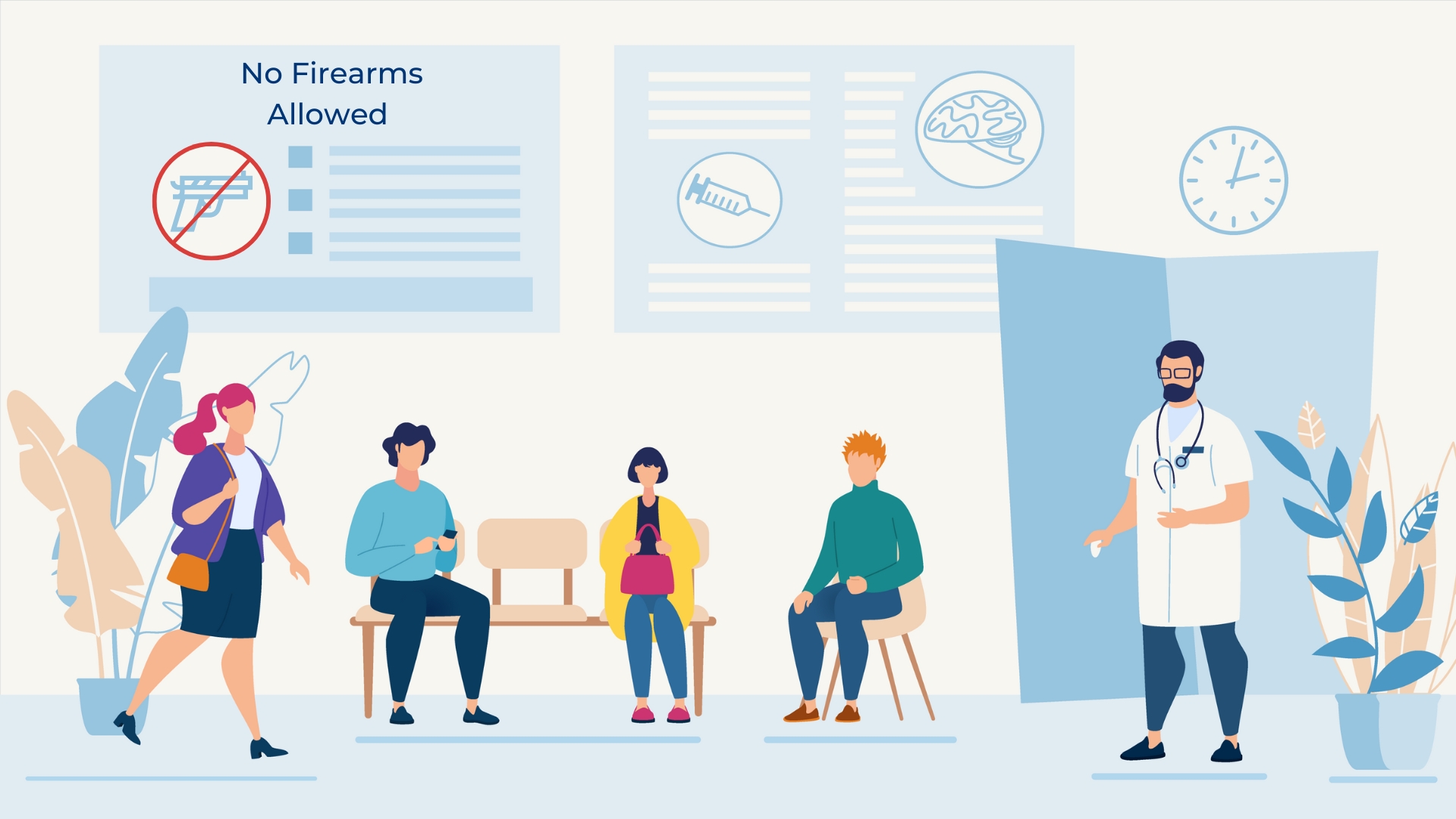 When the Patient has a Gun in Utah
What are your legal rights if a patient brings a firearm into your medical practice in Utah?
Can I prohibit weapons and firearms in my practice? What about patients who are law enforcement officers?
Under Utah law, businesses are free to introduce prohibitions on bringing weapons or firearms into their offices. If a business chooses to implement such a prohibition, any individual who enters or remains on the property while knowing they are in violation of the restriction is trespassing. This prohibition can be enforced personally by the business by bringing a claim for trespass against the violating individual in court, or it can be enforced criminally by the state. See Purkey v. Roberts, 2012 UT App 241 ¶17 ("A person is liable for trespass when, without permission, he intentionally enters land in the possession of another, or causes a thing or a third person to do so." internal quotations omitted); Utah Code § 76-6-206(2)(b) (A violation of section 2(b) is a class B misdemeanor.)
State law does not provide particular enforcement for businesses beyond a claim of trespass. In contrast, Utah law does provide particular restrictions, or enforcement for restrictions, against bringing weapons or firearms to the following: airport secured areas, federal facilities, courts, correctional & mental health facilities, law enforcement secured areas, and even houses of worship or private residences which have provided sufficient notice. See Utah Code § § 53-5-710, 53B-3-103, 76-10-530, 76-8-311.1, 76-8-311.3, 78A-2-203.
Trespass requires knowledge by the trespasser that they are entering onto the owner's property without permission. See Purkey v. Roberts, 2012 UT App 241 ¶17. In the context of a prohibition on weapons or firearms, this would require the individual to know about the prohibition when entering the property or when choosing to remain on the property. As such, patients must either be informed of the prohibition by a clearly posted sign or by a member of staff.
If a provider does not wish to post a sign bringing attention to the issue, they may choose to personally inform individuals as necessary. However, this would typically not provide notice until after the issue has already arisen.
Utah law doesn't provide any specific exception for law enforcement officers who are coming to the business as clients or patients. As a patient, they are still required to respect the rights of the property holder to set restrictions as they see fit. However, if law enforcement is lawfully present on the property without permission, which is most likely to occur in the course of their law enforcement duties, they would not be trespassing and a provider would have no right to restrict their carrying of a weapon on the premises. This is very unlikely to include the appearance of a law enforcement officer at an appointment for medical services.


What can and should I do if a patient comes to an appointment openly carrying a weapon or firearm?
The situation is clearly different depending on the demeanor of the individual. If the situation appears to be confrontational such that the provider fears for staff or patient safety, law enforcement should be called as quickly and discreetly as possible.
If the situation is simply an individual who appears to be open carrying a weapon in the course of his/her regular business, and if the provider doesn't wish to accommodate weapons or firearms in their practice, the patient should be informed of the policy and asked to return without the weapon in order to obtain services. If a patient refuses to leave, or becomes agitated, police may be called to enforce the requirement as needed.


What can and should I do if a patient pulls up a pant leg or shirt for examination and exposes a concealed weapon or firearm?
If the patient has already been provided with notice, either by posting notice or communicating directly with the patient, according to the provider's judgment, it may be best to either a) state that services will not be provided and request the patient remove the weapon from the premises, or b) provide services in this instance, but inform the patient of the restriction and state that it will be strictly enforced in the future. If the provider has a policy in place prohibiting the presence of weapons or firearms on the premises, the provider reinforcement of the prohibition, rather than ignoring the event, is helpful to establishing notice of the policy.


Can I require patients to disclose whether they are carrying a weapon or firearm?
Utah has no law preventing a business from making such a requirement. Again, as outlined above, clear notice of the requirement must be provided, and, if an individual refuses to comply, the requirement may be enforced by refusing services and requesting that the individual leave the property, followed by either civil or criminal charges as needed.