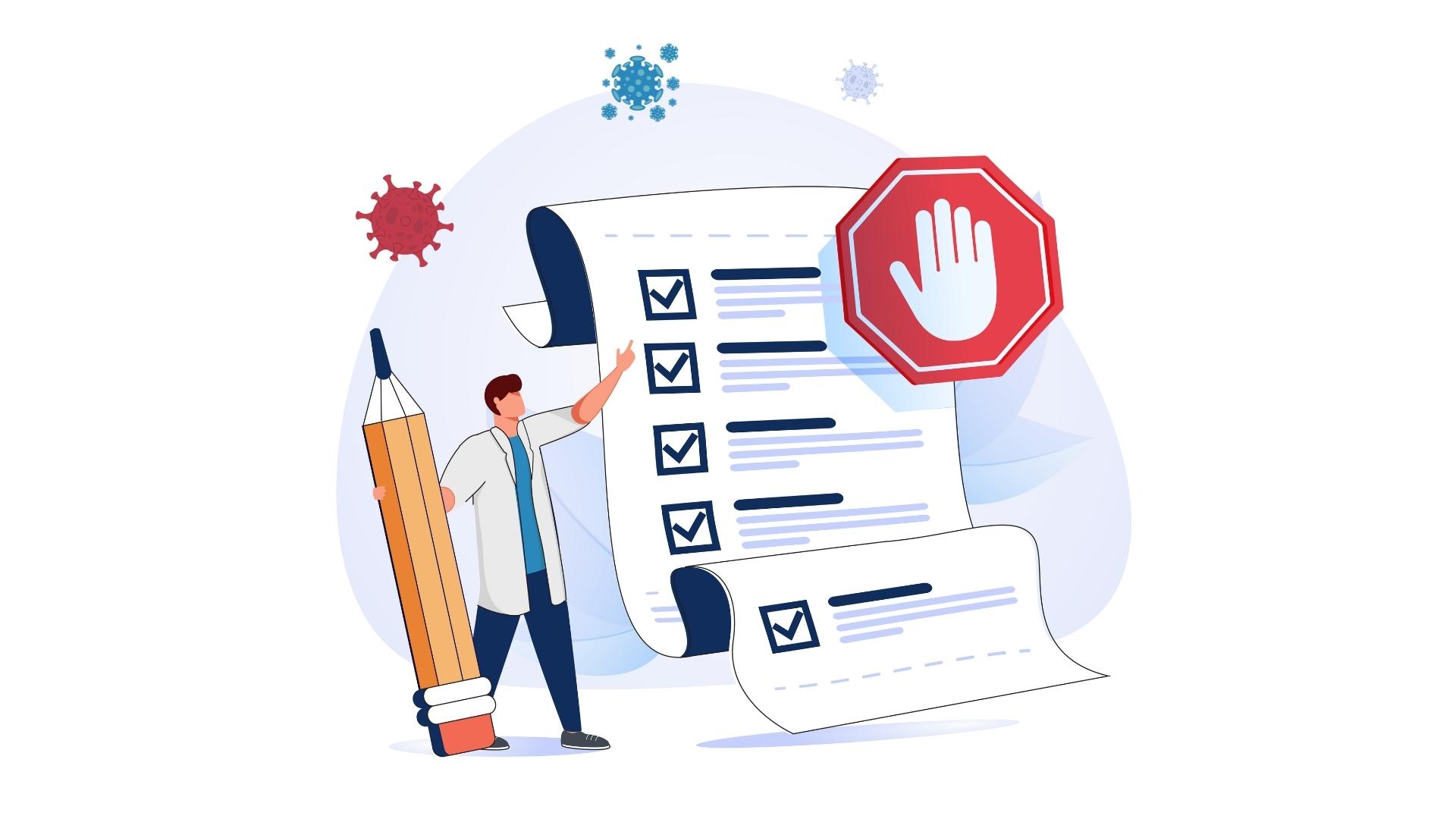 The COVID-19 Public Health Emergency Has Ended
The COVID-19 public health emergency ended on May 11, 2023 and many government agencies have resumed enforcement of pre-pandemic regulatory requirements.
The COVID-19 public health emergency ("PHE") ended May 11, 2023. Over the last 3 years, federal government agencies relaxed many regulatory requirements by issuing waivers, flexibilities, and notices of enforcement discretion to make it easier for ambulatory practices and other health care organizations to provide care during the COVID-19 pandemic.  
Many of the flexibilities related to Medicare reimbursement for telehealth services, but others affected controlled substances prescribing via telehealth, and compliance with the federal Stark law, to name just a few. As a result, medical practices likely changed their patient care policies, billing processes, and other operating procedures to reflect the new or relaxed requirements. 
On May 11, some of these waivers and flexibilities abruptly ended, and some government agencies resumed enforcement of pre-pandemic regulatory requirements. Other measures will continue through 2023 and 2024, thanks to CMS and/or Congressional action.  
Knowing whether a particular flexibility expired now or remains in effect until later is important. Expired and expiring waivers will impact patient care, billing and revenue, and regulatory compliance. Medical practices will need to modify policies, billing processes and other operating procedures accordingly.  
To protect your practice from regulatory investigations and help you prepare for "return to normal," MICA has compiled the following summary of changes most likely to affect physician practices.   
Use HIPAA-Compliant Software/Apps for Virtual Care 
Three long years ago the Office of Civil Rights ("OCR"), in charge of HIPAA-enforcement, published a Notification of Enforcement Discretion. The Notification said clinicians and practices could use non-public facing audio or video chat applications (like Apple FaceTime, Facebook Messenger, Google Hangout, and Skype) to provide telehealth services in good faith, without the risk of penalties for HIPAA violations. 
This enforcement discretion ended on May 11, meaning physicians and practices that have not already done so should immediately transition to a HIPAA-compliant platform if providing virtual care.  
Drug Enforcement Agency and Online Prescribing – Status of the Ryan Haight Act

 

 
During the PHE, the Drug Enforcement Administration (DEA) and HHS adopted policies to allow DEA-registered practitioners to prescribe controlled substances to patients without a prior in-person visit. On February 24, 2023, in anticipation of the end of the PHE, the DEA issued two new proposed rules to govern post-PHE virtual prescribing of controlled substances and buprenorphine. When the rules' comment period closed on March 31, the DEA had received a record 38,000 comments. Because the agency is required to review and consider all comments, a final rule is not expected immediately.
In the meantime, the DEA has issued a post-PHE temporary rule called the Temporary Extension of COVID-19 Telemedicine Flexibilities for Prescription of Controlled Medications. The rule extends all PHE telemedicine prescribing flexibilities through November 11, 2023. In addition, thanks to a one-year grace period, all PHE flexibilities will continue to apply through November 11, 2024 to any practitioner-patient telemedicine relationships established prior to November 11, 2023. The temporary rule is effective now and is anticipated to remain in effect until the DEA publishes the final rule on virtual controlled substances prescribing.
Medicaid Providers – Don't Get Terminated! Ensure You're Up to Date with Revalidation Requirements 
Medicaid agencies have resumed the provider revalidation processes that were suspended during the PHE. In addition, pandemic-related continuous enrollment requirements ended April 1, 2023, and all Medicaid agencies have begun the "unwinding" process to remove ineligible members from their rolls.  
If you contract with AHCCCS, Utah Medicaid, or other state Medicaid programs, watch for revalidation notices and make sure the agency has your current contact information. Failure to timely complete the revalidation process may result in contract termination. 
For Arizona Medicaid providers, AHCCCS began mailing revalidation notices in November 2022 and will continue through August 2023. AHCCCS has determined that many providers are at risk of termination because they have not responded to the notices (perhaps because they were mailed to old addresses). AHCCCS is cautioning providers to proactively update their information in the AHCCCS system and watch for revalidation notices. Additional information is available here.    
Status of Waivers and Flexibilities Related to Medicare Telehealth 
In 2020, to promote care during sheltering in place, CMS issued numerous waivers relaxing Medicare and Medicaid restrictions on the use of telehealth. In response, most practices pivoted to provide virtual care at the start of the pandemic. Although the percentage of in-person visits has rebounded in the last two years, many practices are still taking advantage of the waivers and offering telemedicine visits as an option for patients.  
If your practice participates in Medicare and provides virtual care, it is critical to understand how the PHE end affects the status of various waivers. Some waivers terminated on May 11, while others remain in effect due to CMS and/or Congressional action. If a waiver you were utilizing terminates, you will likely need to make changes in billing processes, policies, and/or operating procedures to ensure compliance with current CMS regulations.  
With the PHE end in sight, CMS has cautioned physician practices to prepare now for termination of waivers and "return to normal." To support this transition, CMS has issued the Physicians and Other Clinicians Fact Sheet. The Fact Sheet contains vital information about what waivers expire when. Information about some of the expiring waivers is listed below. Practices should refer to the Fact Sheet for more details and information about additional waiver expirations not discussed in this article.  
Waivers In Effect Through December 31, 2024 
Thanks to Congress and the Consolidated Appropriations Act of 2023, some of the most significant Medicare telehealth flexibilities in place during the PHE will continue through the end of 2024, including:    
Patient geographic and site requirements waived so patients may receive Medicare telehealth services in any setting (i.e., patient can be at home for telehealth visit and not limited to rural areas)
 

Audio-only allowed for certain services, including audio-only E&M codes (99441-99443)

 



Any type of health care professional eligible to bill Medicare may provide telehealth services

 
List of Eligible Services that May be Provided Via Telehealth Through 2023 
To determine what services may still be provided via telehealth to Medicare beneficiaries during 2023 (including those eligible for audio-only), refer to CMS' List of Telehealth Services for Calendar Year 2023  (updated 02/13/2023). 
Waivers that Expired May 11, 2023 
Remote evaluations, virtual check-ins, and e-visits

: Medicare pays for e-visits (brief clinician-patient communications using various telecommunications technologies).

During the PHE

, clinicians could provide remote evaluation of patient video/images and virtual check-in services (HCPCS codes G2010, G2012, G2251, G2252) to new and established patients.

Post-PHE

, these services may only be provided to established patients.
 

Remote physiologic monitoring (RPM)

:

During the PHE

, clinicians could bill for RPM services furnished to new and established patients with acute or chronic conditions. In addition, for CPT codes 99453 and 99454, CMS waived the minimum 16 days of data collection and allowed as few as two days of data to be collected if the patient was diagnosed with, or suspected of having, COVID-19.

Post-PHE

, RPM is billable only for established patients with acute or chronic conditions. To bill codes 99453 and 99454, you must collect at least 16 days of data (in addition to other billing requirements applicable to these codes).
 

Frequency limitations on certain Medicare telehealth services

:

During the PHE

, CMS removed frequency limitations applicable to CPT codes 99231-99233 and 99307-99310 and HCPCS codes G0508-G0509.

Post-PHE

, the following frequency limitations will return:

 



CPT codes 99231-99233 – Subsequent inpatient visits furnished via telehealth are limited to 1 every 3 days

 



CPT codes 99307-99310 – Subsequent skilled nursing facility visits furnished via telehealth are limited to 1 every 14 days

 



HCPCS codes G0508-G0509 – Critical care consults furnished via telehealth are limited to one per day.

 



Telehealth no longer allowed for required visits with end-stage renal disease (ESRD) Medicare patients on home dialysis

:

During the PHE

, telehealth could be used to furnish the required regular visits for these patients.

Post-PHE

, these visits must be in-person.
 

Telehealth no longer allowed where in-person required by National Coverage Determination or Local Coverage Determination

:

During the PHE

, CMS allowed telehealth to substitute for in-person evaluations and assessments required by NCDs or LCDs.

Post-PHE

, these in-person requirements will resume.
 

Teaching physicians:

 
During the PHE:  
Teaching physicians utilizing a virtual presence could bill for services furnished by a resident in training if physician was present during the key portion of the service and the setting was outside a metropolitan statistical area ("MSA").

 



For all training settings, teaching physicians could direct care and review services each resident provides during or at once after each visit virtually.

 
Post-PHE: 
Only teaching physicians in residency training sites outside a MSA may direct, manage, and review care furnished by residents through audio/video real-time communications technology.

 



This policy does not apply in the case of surgical, high risk, interventional, or other complex procedures, services performed through an endoscope, and anesthesia services.

 
Medicaid and CHIP Telehealth 
Medicaid and CHIP telehealth requirements were not tied to the end of the PHE and will be unaffected. Coverage will continue to vary by state.  
CMS Will Eliminate Virtual "Direct Supervision" 
CMS recently released the following statement, "To allow more people to receive care during the PHE, CMS temporarily changed the definition of 'direct supervision' to allow the supervising health care professional to be immediately available through virtual presence using real-time audio/video technology instead of requiring their physical presence. CMS also clarified that the temporary exception to allow immediate availability for direct supervision through virtual presence also facilitates the provision of telehealth services by clinical staff 'incident to' the professional services of physicians and other practitioners." This flexibility expires December 31, 2023. 
Home Address Required on Medicare Enrollment if Rendering Telehealth Services from Home 
During the PHE, CMS allowed clinicians providing telehealth from home to continue billing these services through the location listed on their Medicare enrollment, rather than adding their home address. This waiver terminates at the end of 2023.  
Physician Self-Referral Law (Stark) – Relaxed Restrictions Expiring 
Unless an exception applies, Stark generally prohibits physicians from referring patients to receive Medicare/Medicaid-covered "designated health services" through an entity with which the physician or physician's immediate family member has a financial relationship. During the PHE, CMS issued blanket waivers to relax certain Stark Law restrictions. The CMS waivers were only applicable to financial relationships and referrals related to the COVID-19 emergency. 
These temporary flexibilities ended May 11, 2023. Physician practices now must fully comply with all Stark Law requirements. For more information and examples of arrangements permitted by the temporary flexibilities that will no longer be allowed, see the CMS Fact Sheet for Physicians. 
COVID-19 Testing, Treatment, and Vaccines 
Here's what to expect post-PHE when it comes to COVID-19 testing, treatment, and vaccines:   
Until September 30, 2024, Medicaid and CHIP programs are required to cover COVID-19 testing ordered or administered by a health care professional. Other insured patients may have started seeing cost-sharing requirements beginning May 11, 2023.
 
Any COVID-19 pharmaceutical treatments purchased by the federal government will remain free to all patients. Once federal purchases cease, Medicaid and CHIP programs will continue full coverage through September 2024, but cost-sharing requirements will kick in for Medicare beneficiaries and other insured patients.
 

Until the supply of federally purchased COVID-19 vaccines runs dry, vaccines will remain free of charge for all patients regardless of insurance coverage. For information on amounts Medicare will pay clinicians for administering COVID-19 vaccines in outpatient settings and patient homes, see page 2 of the

Physicians and Other Clinicians Fact Sheet

.