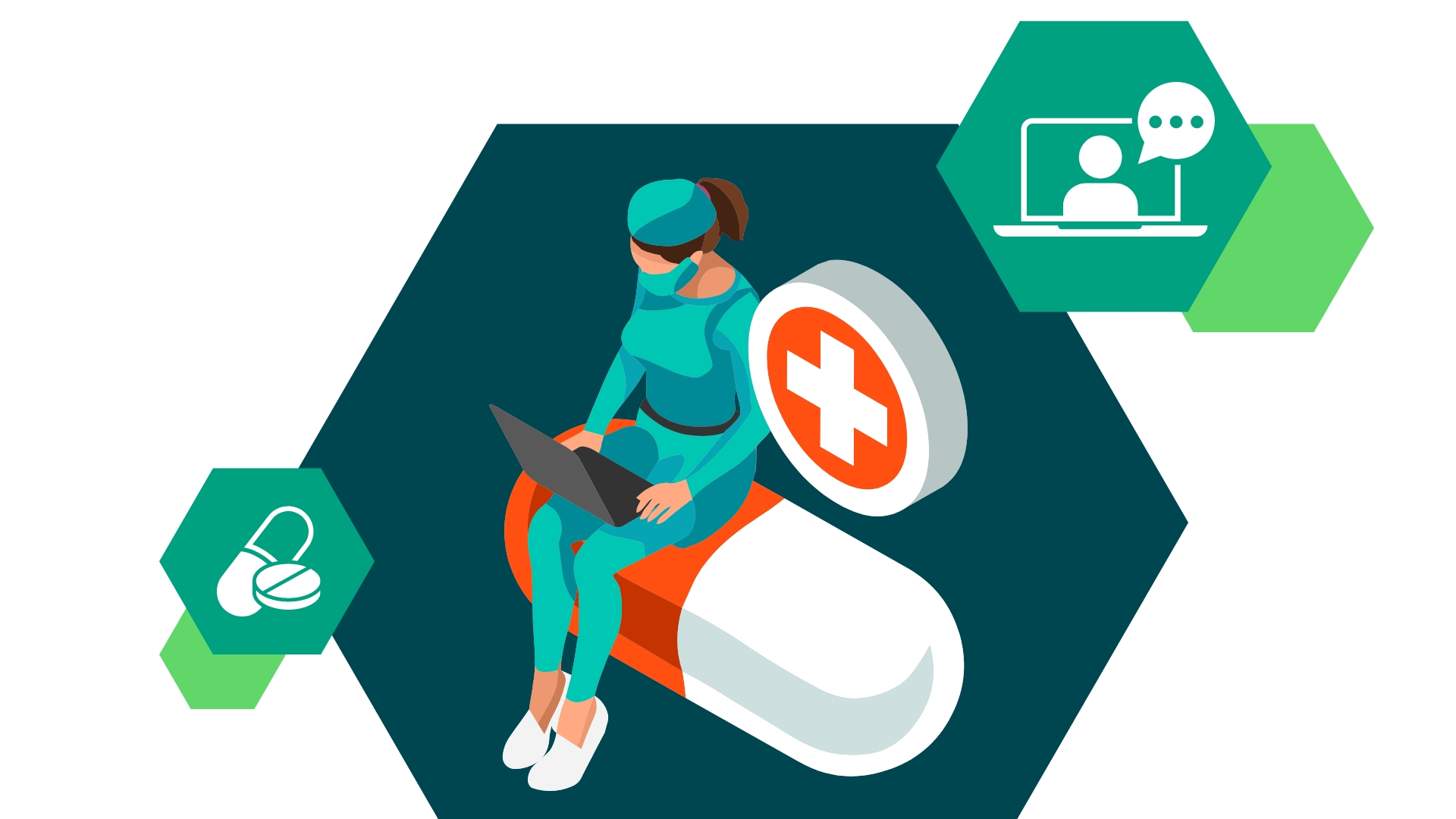 New DEA Opioid Training Requirements for Registered Practitioners
Physicians and practitioners registering with the DEA must now completed 8 hours of training on the prevention and treatment of opioid and substance use disorder.
The Medication Access and Training Expansion ("MATE") Act, went into effect on June 27, 2023, and increased the required number of hours of continuing medical education for Drug Enforcement Administration ("DEA") -registered physicians and advanced health care practitioners ("prescribers").  
Prescribers renewing their registrations with or registering with the DEA for the first-time or must now check a box next to a statement that they have completed 8 hours of training on the prevention and treatment of opioid and substance use disorders. This is a one-time 8-hour training requirement, so registered prescribers will not have to complete the training the next time they renew.  
Some  prescribers are excluded from the 8-hour training requirement: 
Prescribers who are board certified in addiction medicine or addiction psychiatry by the American Board of Medical Specialties, American Board of Addiction Medicine, or American Osteopathic Association do not have to comply with the requirement.

 
 
MDs, DOs, dentists, PAs, or APRNs

)

 

who graduated in good standing from a U.S. school within the 5 years prior to June 27, 2023

,

automatically qualify for registration if their curriculum included at least 8 hours of training on the following:



Treating and managing patients with opioid or other substance use disorders, including the appropriate clinical use of all drugs approved by the Food and Drug Administration for the treatment of a substance use disorder; or

 
 

Safe pharmacological management of dental pain and screening, brief intervention, and referral for appropriate treatment of patients with or at risk for developing opioid and other substance use disorders.

 
Other prescribers can satisfy the training requirement with at least 8 hours of training provided by an approved organization. 
The DEA emphasizes these key points about the training requirement: 
You are not required to earn all 8 hours in one session. Multiple courses totaling at least 8 hours are acceptable

,

.

 
 

You may be able to apply prior training through 

one of these organizations

 to the 8-hour requirement if the training addressed the treatment and management of patients with opioid or other substance use disorders

.

,

 
 

Past DATA-Waived training counts toward the requirement, and

 
 

The DEA recognizes a variety of training formats such as classroom settings, virtual courses, and seminars offered at medical professional society meetings.

 
For more details, read the DEA's letter to practitioners and guidance from Substance Abuse and Mental Health Services Administration ("SAMHSA"). 
What Does This Mean for MICA Members?
Licensed prescribers of opioids and other controlled substances must meet 2 sets of continuing medical education ("CME") requirements. 
First, licensees must meet their state licensing board's CME requirements for opioid prescribing and monitoring.

 



Second, they must complete specific opioid-related CME courses to comply with the MATE Act and the DEA's regulations.

 
MICA does not require members to take the courses.
MICA members in Arizona, Colorado, and Nevada may fulfill both sets of requirements by completing MICA's online prescribing and monitoring courses. Utah members can meet the MATE Act requirements through the MICA online CME courses.
Please contact your licensing board for answers to your specific questions about the opioid CME requirements and courses you have taken or plan to take for each licensing period.
Osteopathic Licensed Physicians
Allopathic Licensed Physicians
DEA-Registered Prescribers
The new MATE Act requires DEA-registered prescribers to complete 8 hours of CME on the treatment and management of patients with opioid or other substance abuse disorders.


Relevant training you received before December 29, 2022, through the following organizations may be applied toward the 8-hour requirement:


The American Society of Addiction Medicine (ASAM)
The American Academy of Addiction Psychiatry (AAAP)
American Medical Association (AMA)
The American Osteopathic Association (AOA), or any organizations accredited by the AOA to provide continuing medical education
The American Dental Association (ADA)
The American Association of Oral and Maxillofacial Surgeons (AAOMS)
The American Psychiatric Association (APA)
The American Association of Nurse Practitioners (AANP)
The American Academy of Physician Associates (AAPA)
The American Nurses Credentialing Center (ANCC)
Any other organization accredited by the Accreditation Council for Continuing Medical Education (AACCME) or the Commission for Continuing Education Provider Recognition (CCEPR), whether directly or through an organization accredited by a State medical society that is recognized by the ACCME or CCEPR
Any other organization approved or accredited by the Assistant Secretary for Mental Health and Substance Use, the ACCME, or the CCEPR



Only the DEA can answer your questions about specific training courses and their applicability to the DEA registration. See DEA MATE Act Training Requirements.


MICA members can satisfy the DEA's new 8-hour training requirement by taking the courses these courses in the MICA online CME library under "MATE Act Training":


Opioid Use Disorder: Differing Perspectives for CME/CNE 1.50 credits
Prescribing Controlled Substances for CME/CNE 2.00 credits
Opioid Mortality: What Prescribers Can Do for CME/CNE 2.00 credits
Controlled Substances Series: Drug Diversion Prevention for CME/CNE 0.75 credit
Controlled Substances Series: Best Practices for Prescribing for CME/CNE 1.25 credits
Controlled Substances Series: Fundamentals of Addiction and Addiction Treatment for CME/CNE 1.25 credits
MICA members can access qualifying courses on the MICA website by logging into the Member Portal and clicking on "Online CME Courses" in the bottom left corner under "Actions."